.

Jim McRae is the co-owner and senior technician.  Jim has been in the photo repair business since 1978.  He is our slr (single lens reflex) specialist.  He specializes in the repair and restoration of older rangefinder cameras.  He is also our lens technician.  Jim is also our buyer and antique camera appraiser.  And, if you need some advice on sheep, border collies or need a flock of sheep sheared he can do that too!
.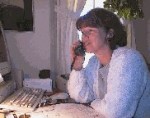 Liz McRae is the other co-owner and the heart and soul of the business.  Besides keeping the records, she makes sure everything from the ordering to shipping gets done.  She is the smile behind the counter and at the other end of the phone.  She is the one to talk to when you want an estimate or to see when your camera was shipped.
.
.
.
From top right Jack, Fia and Rae working sheep…
and below Fin guarding the couch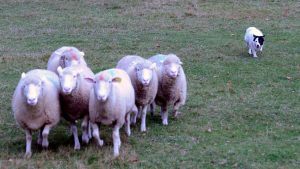 .
Last Updated: October 22, 2020 @ 9:00 pm